Step 4: Health insurance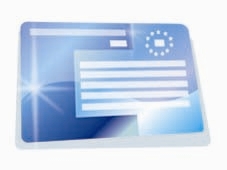 As EU-citizen: If you are EU citizen, there is not much to do here. If you have an European health insurance card from your home country (as displayed on the left), you do not need an additional health insurance. Unfortunately, not all doctors can understand English and the least are interested to contact your insurance company. Thus, it is recommended to contact a German health insurance to have a contact person for emergencies. Please register at AOK, DAK, IKK or TK or any other health fund with your health insurance card. It is usually free of charge and you get a mediator to settle German doctors.
More info about the European Health Insurance Card (EHIC)
As non-EU-citizen: You must have health insurance cover for the entire period of your stay . You have the choice between statutory and private health insurances, but it is recommended to choose the statutory health insurance. By choosing a private health insurance you had to check whether they conform to the services under § 11 SGB V, Section 1-3. All statutory health insurance funds meet those services.
The cost of a statutory health insurance for students up to 30 years and until the 14th semester is about 90 per month.
Checklist for the registration at a health insurance:
current address
passport photo
bank details (can also be provided later if you don't yet have a bank account)

certificate of enrollment of the University of Magdeburg