IKUS Olympics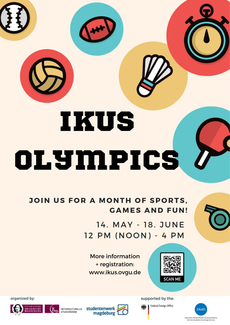 14.05.2022 -
Do you want to get out of your apartment, meet new people, and have a good time? We do too! So join us for a team game as well as some other games and activities. For each week, we have different activities planned and it is not all about the sport, but more about getting to know each other and spending the afternoon together.
Where? We will meet in front of the IKT and start from there together. We have different locations for different days, such as the Nordpark for example.
So grab your friends, something to drink, and maybe a snack, and come by!
**We will draw lots for the team game. If you want to be in a team with friends, that is possible as well.**
The registration is already possible.
We would like to take pictures at the event and might use them e.g. on our website. In case you do NOT want to be in those pictures, please let us know at the beginning of the event.
We are looking forward to seeing you there!